Women Can Also Have Their Own Deep Pockets
Women Can Also Have Their Own Deep Pockets!

I am very excited to announce that I have been invited to be a featured speaker for a phenomenal free global teleconference: Love, Dating, and Relationships Global Telesummit!

It's true! Women Can Also Have Their Own Deep Pockets and I will be speaking about this very important topic at this telesummit with these renowned speakers: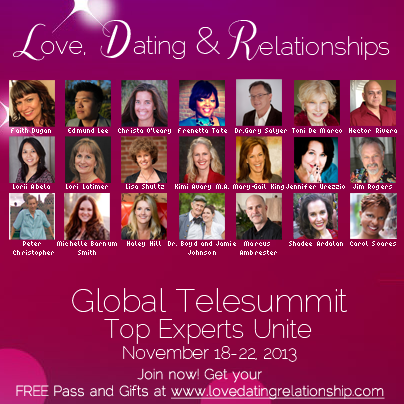 This 5-day event showcases some of the most respected leaders in business, relationship mentoring, life coaching, personal empowerment, soulmate manifestation and other relational areas.
I will be interviewed by Lorii Abela – Soulmate Expert, highly regarded speaker and my fellow co-author of the new blockbuster cult book Hot Mama in (High) Heels. Joining me is a host of big names from the world of relationship management, and the event promises to be an exciting one for listeners and featured speakers alike.
What you get is…
Free 5-day access to an event that is guaranteed to give you tons of valuable information and understanding of the mechanics and practical aspects of building strong and positive relationships.
Free gifts with your registration, which is simply an RSVP acknowledgement of your presence at the global teleconference from November 18th to 22nd.
Results-oriented advice from accomplished teachers and experts on creating, maintaining and enriching relationships.
A new perspective on your own true nature and the immense potential that lies dormant within.
Actionable ideas to improve your love life and your success with relationships.
 What you need to do is…
Go to https://www.lovedatingrelationship.com and register for a FREE pass for the 5-day teleconference starting November 18th – 22nd.
Claim your FREE GIFTS at that web address.
Be logging in and listening in on November 18th at the time specified on your invitation once you register.
Go away after five days with a full head and a happy heart, safe in the knowledge that you now have powerful tools to deal with your relationship issues.
And that's all there is to it! I truly hope you will be there to give your continued support to my work, and I wholeheartedly believe that you will leave the teleconference feeling more empowered, more confident, more certain of your future and more capable of creating and nurturing beautiful, life-long relationships.
Check out this video for a preview on what's to come:
Update: If you missed the event, you can listen to my interview on 

Women Can Also Have Their Own Deep Pockets

right here: