I've created a 90 Day Money Mastery Mentorship so you can attract money to your biz like crazy!
Limited time offer!
If you are a successful new entrepreneur in training, have a
BIG

vision, and want to serve in a

BIG

way…
Are you serving lots of customers and at the end of the month, there isn't any more money for YOU?
Are you struggling to keep your finances straight, because you're so busy?
Do you want to become super successful, but feel like all this "financial" jargon is confusing?
Are you being held back in your business, because you secretly feel like you're not doing something right?
Is there an easier way to run your business?
Wouldn't it be nice if someone could de-mystify this process for you?
How about someone with an accounting education and decades of experience…that has the expertise that can actually help you take actionable steps to strategize your business?
Most money coaches don't have the accounting expertise to help you set up your accounting structures and understand the financial lingo.
Most accountants haven't done the work on

 how to address the deeper emotional issues that keep people stuck in self-sabotaging money behaviors. They don't teach that at school!
I have the accounting expertise and I've done the work around the deep emotional issues that keep people stuck in lack and not attracting money to their experience like they should!
I excel at simplifying complex accounting concepts to non-financial managers…making it easy and fun! 
Feel free to check out my testimonials and LinkedIn Profile to see my credentials and recommendations.
I want to make this easy and fun for you!
For you to attract money in your business, you have take steps to help you release resistance to money. This means setting up financial systems for financial success.
I see many entrepreneurs making financial mistakes in their business like:
Spending more money than they should
Ignoring the financial piece in their business
Not tracking their money or keep a budget
Waiting until the last minute at tax time to gather the necessary documents, which ultimately leads to not finding all of them and some of them unreadable/unusable
Stressing about the lack of money thus attracting more lack –> vicious circle
The CEO of a successful corporation consults with their CFO continuously & makes financial decisions based on the financial stability of the corporation accordingly.
Any corporation that ignores the financial piece in their business will go out of business!
I don't want this to happen to you!
This is why I created this 90 Day Money Mastery Mentorship! 
 This is personalized, one-on-one, intensive mentoring that includes:
Look at your finances & determine your individual needs
Set up and streamline your systems based on your needs
Accounting expertise to help you set up accounting & tax systems
Reset your money mindset & remove money blocks
Strategize a plan to knock down debt
Make you a money magnet so your can attract money like crazy to your biz!
This is what you're going to come away with after 90 days: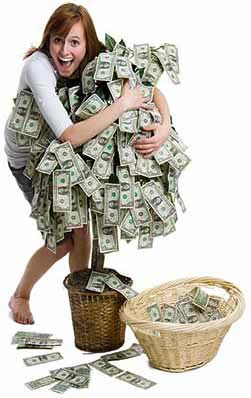 Organized, efficient, & automated business with accounting & tax systems in place
Improved cash flow and productivity
Increased profitability
Business growth
Eliminate redundancy
Abundant money mindset that will attract more money!
Master of your finances – no confusion or anxiety!
Peace of mind knowing where your money is going
Eliminate surprise late fees & penalties
Tax time will be a breeze
More time and freedom
Attract more money to your biz like crazy!
If you are ready for financial success and ready to serve in a BIG way, then you need this program!
For a limited time, I am knocking 60% off the price! You need to act fast for this special offer before all seats are filled. This is personalized, intensive, one-on-one mentoring with me for 90 days, I can only serve a limited amount of people.
I only have 6 spots available!
Don't forget, this program is 100% tax deductible because it's for your business!
You can try to figure things out on your own, but remember, if you keep doing the same things, you're going to continue to keep getting the same results.
A problem cannot be resolved by the same level of thinking that created it. -Albert Einstein
If you are ready for a BIG change and desire a financially thriving streamlined business that runs effortlessly, increases your net worth, setting you up to attract money like crazy….then sign up now before the seats are gone!
I'm going to throw in a special bonus for people that want to take FAST action to up-level their biz! 
The first three people that sign up NOW will receive my newly released downloadable Business Startup Package ($197 value). This package gives you the building blocks to your biz (3 audios that you can listen to over & over, companion eBook, accounting checklist, tax guide, and accounting chart).
I leave you with a quote from T. Harv Eker, successful businessman, motivational speaker on wealth, and author of "Secrets of the Millionaire Mind":
Practice whatever you want to be in the future now. If you want to be a manager of your own personal wealth, start managing your finances now, no matter how much money you earn. ~T. Harv Eker
Complete the questions below for your contact information so I can get you set up for your first appointment with me!  Provide your Skype address if located outside the United States.
Complete the contact information below. Please know that contacting me without payment does not guarantee your spot!
Once payment has been made, your spot is locked in!
Go here to lock in your spot now!
[contact-form-7 404 "Not Found"]