Tax Tips for Entrepreneurs
TODAY is Tax Day!
Were your taxes a breeze? Or, were you in a frenzy?
Did you file them early? Or, did you get them done in the knick of time? Did you have to file an extension?
Did you spend way too much time searching for your deductible expenses?
Do you have a system of keeping track of your business expenses so you can maximize your tax deductions?
I'm excited to share with you some tax tips for entrepreneurs like you…get through tax time seamlessly and effortlessly! Doesn't that sound like music to your ears?
Tip#1: There are many great bookkeeping software programs to track and categorize your expenses, why not take advantage of them? This will save you SO MUCH TIME at tax time, with less room for errors to be made. Here is one of my favorites: cloud-based GoDaddy Bookkeeping (formerly known as Outright) because it's economical, intuitive, easy to understand, and taxes are a snap. GoDaddy Bookkeeping calculates your estimated quarterly taxes for you (more on that later) and Schedule C is created throughout the whole year so tax time is a breeze! Recently, a really cool online invoicing feature has been added where your clients can pay via email or snail mail. Income & expenses are synced (saving you time) and transactions are intuitive so you don't have to re-input data. What does that mean? More time for you to do FUN STUFF!
Check out this short video how GoDaddy Bookkeeping (formally known as Outright) works:
A great cloud-based accounting program for the non-accountant is Freshbooks. It has an advanced online invoicing system, time tracking making it easy to invoice, and expense management solution for your business. You can try it out for free for 30 days too!
Tip#2: Separate your business from your personal expenses to specific credit cards/bank accounts. This will make it much, much easier for you to track business expenses and easier for your tax accountant at tax time, resulting in a cheaper bill if he/she does not have to sort through all your business AND personal expenses for deductions.
Tip#3: How about organizing all those expense deductions? Disorganization is NOT your friend! There is a great cloud-based tool called Shoeboxed that is an easy breezy way to digitize & archive your files that can be categorized and searchable. You can mail all your documents & receipts to Shoeboxed to have them scan for you. You may also take pictures of your receipts, email, or use the web clipper tool. Shoeboxed  syncs with GoDaddy Bookkeeping, Evernote, and many other software programs. Again, more streamlining which means more time for you to focus on FUN STUFF!
Here's a video to show you what Shoeboxed can do:
My super savvy friend Lisa Hines (expert on blog mastery)….she happens to love shortcuts and handy tools to maximize efficiency…shares some of her tax shortcuts she utilizes using Shoeboxed and Evernote to track her expenses making tax time effortless. Check out her organization tips here!
Find out why Evernote is such a helpful organizational tool…it's an electronic filing cabinet in the cloud!
Q1 2014 Estimated Quarterly Taxes
Also DUE TODAY are your Q1 2014 Estimated Quarterly Taxes! If you've already sent them in, GREAT JOB! If you forgot, then you better get them in ASAP to avoid a penalty.
2014 dates to pay estimated quarterly taxes:
| | | |
| --- | --- | --- |
| Q1 | January 1 – March 31 | April 15, 2014 |
| Q2 | April 1 – May 31 | June 16, 2014 |
| Q3 | June 1 – August 31 | September 15, 2014 |
| Q4 | September 1 – December 31 | January 15, 2015 |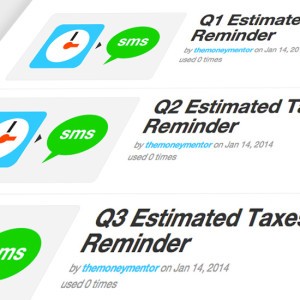 Sometimes it's tough to remember to send in your quarterly estimated taxes with everything you have going on in your business. I have a great tool to help keep you on track and submit your estimated quarterly taxes on time without fail! I use a cool tool on IFTTT (If Then, Then That) that will trigger a reminder for you. It's FREE to create an account, and there are all sorts of cools things you can do! These reminders are called "recipes" and I already set up these triggers on IFTTT to pay estimated taxes on time every quarter on Apr/Jun/Sept/Jan 1st at 10am. You're more than welcome to use my recipes posted on a previous article and can customize different dates & times if you choose. 
If you have not been paying for estimated quarterly taxes electronically (the fastest, easiest way) and you want to know how to pay estimated taxes, read on…
First, you need to enroll on the EFTPS website. Click on "enroll" and complete your information to request a pin number. The pin number is sent via snail mail. As soon as you get your pin number (DON'T lose it!), you are ready to submit your estimated quarterly tax payments.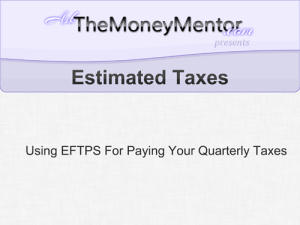 I've created a digital downloadable step-by-step guide that walks you through the Electronic Federal Tax Payment System (EFTPS) to pay your estimated quarterly taxes online. This guide breaks it down for you so you don't have to figure it all out…it's done for you!
How do you know how much taxes to pay? Well, that's easy if you are using GoDaddy Bookkeeping because it calculates the net (income minus expenses) taxable income which is very important so you don't overpay or underpay your taxes.
You can get the Electronic Federal Tax Payment System here, or if you really want to Master Your Money, you can get it as a free gift with the Business Startup Accounting Package that includes:
Digital Download: Money Mindset Audio
Digital Download: Accounting Strategies & Solutions Audio
Business Startup Companion eBook
Digital Download: The 3 Money Mistakes Solopreneurs Make that Sabotage Business Profitability Audio
Using EFTPS for Quarterly Taxes
Accounting Checklist
Categorize eCommerce Expenses on Schedule C
If you prefer one-on-one assistance more specific to your business needs and you really want to take away the sting at tax time and increase your net profit, contact me to set up a FREE session to discuss your needs.