Q4 2013 Estimated Taxes Are Due TODAY!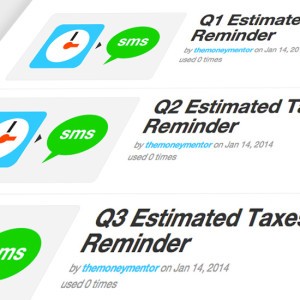 You didn't forget, right? 😉
If you did, you better get a move on! If you've already mailed Uncle Sam his cut of your hard earned cash, nice work! Either way, setting up a simple yearly reminder is a great way to help avoid the dreaded last minute scramble to calculate and process your estimated taxes. IFTTT.com (If This Then That) is a great service to set this up. If you don't have an account, it's free and there are all kinds of things you can do with it to automate tasks using triggers (more information). In this case, "if January 1st, then send me a reminder to pay my quarterly!" The concept is very simple, but also very powerful.
I've gone ahead and created a reminder (or a "recipe" as they call it) for each quarter, preset to send a text message on Apr/Jun/Sept/Jan 1st at 10am (all of which you can customize). If you have an account, feel free to add them to your recipes!
Staying on top of your estimated taxes on a quarterly basis will keep you in good graces with the IRS. My goal is to keep you on top of your finances, avoid unnecessary fees and penalties, while allowing abundance and wealth to flow into your life. I'm here to to make your finances FUN and EASY!  Stay tuned for more tips on mastering your money.
——
Not sure if you're required to pay quarterly taxes? Check out this great article from Bizrate:
The Skinny on Paying Estimated Taxes